Porphychem Company
Expert in the Synthesis of Porphyrins, Phthalocyanines and Related Compounds for Research and Industry
PorphyChem is a chemical company specialized in the synthesis of porphyrins, phthalocyanines and related compounds. Our products are key precursors for research and industrial use in the fields of health, energy, smart materials and chemical processes. The mission of PorphyChem aims to help you reach your goals while improving quality, reducing global cost and saving time. In this way, PorphyChem offers a large panel of products and services to fulfill both industry and research needs.

With an extensive experience in scientific research, we understand our customers needs and we work hard to ensure competitive pricing across our product portfolio. Our R&D department, supported by our Scientific Advisory Board, constantly develops new compounds and cost-efficient synthetic routes to provide valuable range of research products that you do not find elsewhere. As our catalogue selection cannot meet all your needs, PorphyChem provides synthesis services in all areas of research in relationship with our know-how.
More than a manufacturer, PorphyChem is focused on the development of technologies using porphyrins, phthalocyanines and related compounds. To achieve that goal,


PorphyChem offers innovative solutions that fulfill the specific needs of its customers. PorphyChem is an active company in several fields of applications and values the development partnerships and the technology transfer from laboratory benchmark to industrial application.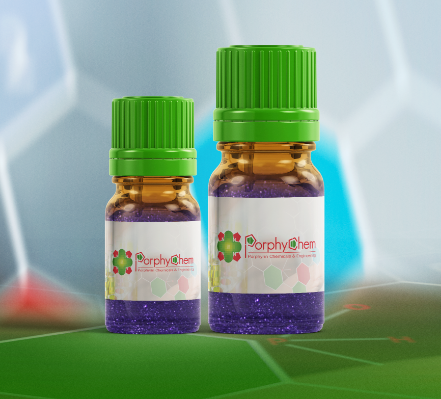 Based on more than 35 years of experience in porphyrin chemistry, PorphyChem fields of expertise range from design to manufacture of photosensitizers for specific purposes. Our know-how includes:
• synthesis of porphyrins, phthalocyanines, BODIPYs and related compounds as well as key building blocks;
• metalation of all types of macrocycles using almost all the metals of the periodic table;
• extraction and purification techniques;
• incorporation (or grafting) of porphyrins and related compounds into metal oxide nanoparticles;
• physico-chemical characterization of porphyrins and related compounds;
• optimization of the chemical manufacturing process;
• development of a product for a specific application.
We value your feedback about our products or services. If you have any questions, comments or suggestions, please do not hesitate to
contact us.